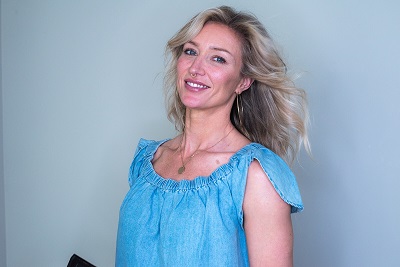 There's something different about being in Liz Ryan's chair. While the journey of transformation may seem to be happening on the outside — something deeper is being tapped.
To Liz, what's changing externally is simply a mirror for what's happening internally.
Cutting dead ends from someone's hair is symbolic for releasing old energy and emotions, shedding the old and providing space for growth. Enhancing hair with colour and vibrance simply illuminates the light that already exists within each person.
"There's definitely a metamorphosis, a transformation, that happens here," she says of her services. "It's all about energy. I attract certain energies, and the connections I make with my clients are that manifestation. So a lot of love, authenticity, truth and magic shows up here. It opens the door to deeper work."
With hands that have always been compelled to draw, paint, and create, Liz found herself attending school at Emily Carr University of Art & Design. But soon, she recognized the truest shade of her intuitive artistic talents — the art of hair.
After completing Blanche Macdonald's Pro Hair program in Vancouver, she spent a period working in the urban salon scene. But big city energy never truly felt like a fit.
When she found Squamish in 201 1, she put down roots and began building her now fiercely-loyal clientele.
"The people here are amazing," says Liz. "There's so much inspiration, positivity, truth, awareness and laughter — these are the things I value. I love helping my clients look and feel their best, while being able to deeply share with them on their journey."
Known by locals as Squamish's blonde expert, Liz continually strives to develop and refine her colouring and industry skills, working with the newest techniques to create lived-in, natural, low-maintenance colour.
An expert in visualizing what hues will look best on skin tones, and what angles compliment each face, her primary focus is to augment a person's organic, inherent beauty.
"It's about seeing people's true colours. Seeing their natural beauty and visualizing the colours and shapes that will reflect and enhance it," she says. "So everyone gets a customized, individual colour and style."
The uniqueness of each clients' look is always backlit by Liz's own forms of inspiration — personal growth and empowerment, nature, styles from different eras, and creating sexy, laid-back hair that can transition to any event or time of day.
As an artist, her ultimate dream came true in 2019, with the launch of her home-based salon, LIT.
"I've had a vision for this space for some time, and as with most creative projects for me, I start by looking for the light," says Liz of the salon.
Like a mirror, the energy of LIT authentically reflects Liz's bright spirit. The space boasts radiant natural sunlight, clear energy, and raw vibrance.
For clients, LIT gives Liz creative freedom to intertwine her knowledge of cutting, colouring, extensions, styling, home-care and products with her values — family, health, fitness, meditation, adventure, art, dance, music, the outdoors, and beauty — to alchemize an experience for the mind, body and spirit that transcends far more than just physical beauty.
(Colour pricing is subject to change, depending on client colour usage and amount of hair)
HAIRCUT (CHILDRENS)

$25-35
GLOSS (WITH ROOT SHADOW)

$50 +

PARTIAL HIGHLIGHT/FOILS

$120
COLOUR CORRECTION

By Consultation
Accepting Cash, Debit, Visa/Mastercard
Liz is a creative genius whom will make your hair dreams come true! Expect her to use a high level of precision and care to create a personalized look that is easy to maintain.
I love Liz. She has an excellent eye for knowing what style will look best on you and advises accordingly. I've been thrilled with every single service!
1039 Jay Crescent
Garibaldi Highlands
(Entrance at Front Door
Parking in driveway or street parking)
Ph: 778-266-0507